A designer case designed to follow you everywhere
Your make-up bag will slip elegantly into all your handbags. Always have your favorite brushes and makeup products with you, and carry them in style with your luxury makeup bag . A modern woman knows how to combine beauty and efficiency.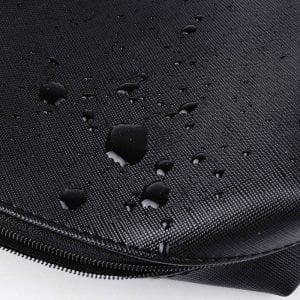 A waterproof makeup bag

Whether you like to shower with your kit or do the wrong thing at the wrong time, a waterproof makeup bag comes in handy! Wash it very easily and make your life easier.
Always stylish colors

Because you will appreciate being able to choose between the softness of a powdery color, the pep's of pink or the refinement of black, the luxury waterproof women's makeup bag is available in three trendy colors.
Characteristics :
Size: Height 17 cm Length 6 cm Width 11 cm